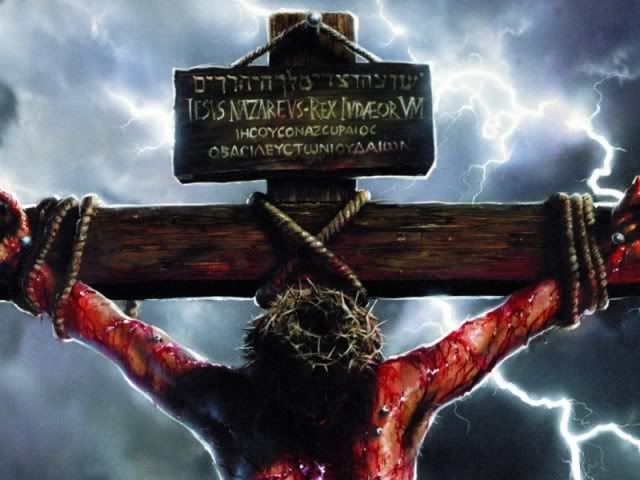 The aspect of the Moral Law that is most difficult to explain in naturalistic terms is the kind of altruism that makes a person willing to die for a stranger and even an enemy, or to suffer scorn and rejection for the well-being of others. In my previous post, we discussed possible natural explanations, like evolution or culture. Now we will discuss the possibility of a divine Lawgiver.
If there is such a thing as an objective Moral Law, this Lawgiver would have to epitomize it. The imprint of the Law on the human heart would have to match His nature in every way, like Cinderella's glass slipper fit her foot.
A few weeks ago, a non-Christian asked me why Jesus had to die on the cross. He couldn't see why an omnipotent God, who presumably had an unlimited number of options at His disposal, would choose such a barbaric method. There are a number of important reasons, but for the sake of this discussion I will focus on Jesus having to fulfill the Moral Law on our behalf.
Although God is certainly omnipotent, He cannot do that which is logically impossible. That is, He cannot be holy and not holy at the same time. And if He is holy, He cannot be capricious; He has to have integrity. Because God epitomizes moral perfection, there are certain things He cannot do and still be true to His nature. This does not diminish His omnipotence, because, as C. S. Lewis says, "omnipotence means the power to do all that is intrinsically possible." That does not include making 2 + 2 = 5 or being both holy and not holy. If something is logically impossible, then being able to do it is not omnipotence, it is nonsense.
The Bible says that God is holy, and in order to determine whether this is true, we should compare His nature to the Moral Law within us. But we do not look at the nature of God in the Old Testament, where He was the Head and Commander in Chief of a political system (a theocracy) that functioned in an Ancient Near East culture. Like any political system, this theocracy had to take into account practicality and culture. As Jesus explained, the Law of Moses made allowances for human nature and the hardness of unredeemed hearts (Matthew 19:8). Instead, we have to look to Christ, in whom "all the fullness of Deity dwells in bodily form" (Colossians 2:9). Christ is God, and as such He perfectly represents God's nature (John 1:1, Hebrews 1:3).
Jesus came to "fulfill all righteousness" (Matthew 3:15), so a look at His life, as manifested in the Gospels, will give us the Christian standard for righteousness. Jesus condemned religious hypocrisy more than any other type of sin (Matthew 23:27-28, Luke 11:44); and the religious hypocrites--His chief enemies--ultimately crucified Him. He befriended sinners, but transformed them rather than learning their ways (Matthew 11:19). He broke through social barriers by treating women and foreigners with respect (John 4:1-26). He valued marriage (Matthew 19:8) and sexual purity (Matthew 5:28). He taught peaceful resistance (Matthew 26:52) and respect for government authority (Matthew 17:27), but He also had the courage to speak truth to power (Luke 11:45-46). He combined justice (John 12:48) and mercy (Luke 18:13-14).
But most of all, His message was one of altruistic love, including love for our enemies (Luke 6:35). And the greatest act of love is to lay down our lives for our friends (John 15:13), so in order to fulfill all righteousness, Jesus had to do that. But He went beyond that--laying down His life for His enemies. When His enemies slapped, mocked, and scourged Him, pushing a crown of thorns into his head and nailing his hands and feet to a cross, his blood covered every sin that has ever been and will ever be committed.
He died on the Preparation Day of the Passover, when the Passover lambs were being slaughtered. And when He breathed His last, the heavy veil of the temple tore in two from top to bottom, granting sinners free access to the inner sanctuary of God.