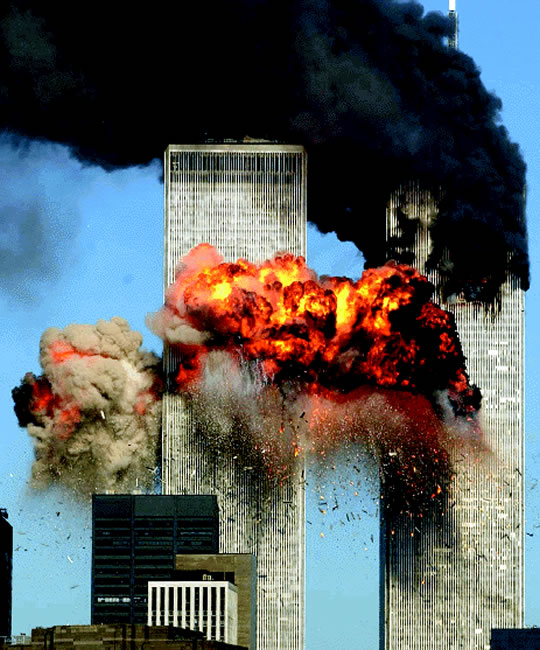 I have recently talked with a few people who consider religion dangerous, and they point to 9/11 as an example.
But was

religion

really the problem there, and would the absence of religion solve it?
No, religion has nothing to do with it. In the first five years of Soviet power, the Bolsheviks executed 28 Russian Orthodox bishops and over 1,200 priests. The Soviet Union considered religion harmful to the people and acted much like Islamic terrorists in an effort to eradicate it. This kind of evil
can
express itself through religion, but it thrives without it as well.
The problem is self-righteous hate, and it can be found among Christians, Muslims, Jews, atheists, and true believers of any ideology. It is the sense that other people are morally inferior to us and it is therefore our right and duty to punish them. The 9/11 terrorists really believed that God would reward them in heaven for destroying "corrupt" Americans.
Self-righteousness blinds us to our own moral failings, so Jesus aptly called it a plank in our eye. It is like an insidious poison because it masquerades as moral superiority. Jesus treated the notorious sinners with love and gentleness, because they knew they needed forgiveness. But he gave it to the hypocrites right between the eyes.
And just like self-righteous atheists killed Christians in the Soviet Union, self-righteous Christians have killed Jews, and self-righteous Muslims have killed Americans. Religion or its absence is not the issue; hypocritical self-righteousness combined with a foothold of power caused the most notorious events of human destruction in history.
Hate and self-righteousness is the problem, and love and humility is the solution. It is the only true moral superiority.